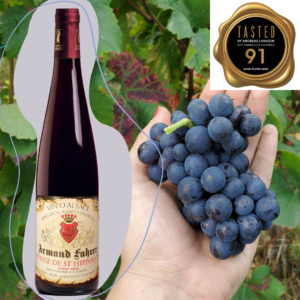 Nous sommes fiers d'annoncer une nouvelle médaille pour notre Rouge de Saint-Hippolyte 2022.
Nous avons participé à l'édition de Tasted Wine d'Andreas Larsson, meilleur sommelier du monde en 2007 et nous avons reçu des superbes nouvelles. Une médaille de 91 points pour le Rouge de Saint-Hippolyte 2022. De plus, son étiquette en édition limitée pour honorer les 30 ans de la disparition d'Armand Fahrer, 2ème génération du domaine, lui confère encore plus d'intérêt.
Les notes de dégustation d'Andreas Larsson démontrent que c'est un vin aromatique avec un nez fruité et des notes d'épices. Sa structure légèrement tannique donne de la matière et de la puissance. Voici le commentaire de dégustation original :
Bright dark garnet with a purple hue. Floral and perfumed with violet, ripe dark fruit, raspberry, ginger, clove and mild oak notes. Youthful and structured palate, still with a tannic bite but no hard edges, grainy and savoury dark fruit with a fine spiciness, pain d´épice notes crushed plum and raspberry with mild oak, dense young fruit flavours and a long pure finish with a good level of freshness.
Pour en savoir plus, vous pouvez visiter leur site : https://tasted.wine/